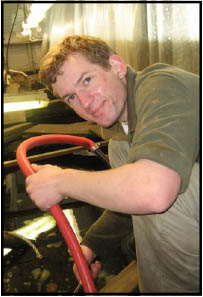 A Family Operation
Many people comment on the "Mom and Pop" nature of the Seaside Aquarium. It is small and privately owned with a personal touch. We hear regularly that multiple generations have enjoyed the aquarium. Visitors who came to the aquarium as kids return with their own children to feed the seals. This is actually true for staff as well as visitors. Over the years, a number of generations have worked here. Rebecca Anderson, who worked at the aquarium in high school and returned many years later says, "You never really leave the aquarium. Once you work there, you're family." Her mother, sister, and brother-in-law have all worked for the aquarium.
Alex Dennon is a perfect example of this phenomenon. His grandmother, Elaine Dennon, worked in the gift shop in the 1970's. His grandfather on the other side of his family struck up a friendship with Jack O'Brien, then owner, who encouraged him to bring Alex to visit regularly. Alex began working for the aquarium in 2005 as an aquarist. He opens the aquarium in the mornings, cuts fish to feed the seals, siphons tanks, and talks with the public in the interpretive center.
Alex remembers visiting the aquarium with his grandfather. He particularly enjoyed the touch tank and feeding the seals. "It seems like we visited once a week," Dennon
Important Beach Safety
1. Never turn your back on the ocean.
Sneaker wavers are very powerful, sometimes strong enough to knock over an adult.
2. Avoid logs in the surf.
They may look stable, but the ocean can roll logs over you.
3. This is not a safe area for swimming in the ocean.
Be aware there is a strong undercurrent.
4. Completely extinguish your campfires.
Embers can burn for days if left or covered.
5. Leave marine mammals alone.
Marine mammals can carry diseases transmutable to humans and pets.
says, "I know it wasn't that often, but it seemed pretty frequent." Alex loves all of the different parts of his work but his favorite part is "all of the people that you meet [in the interpretive center]."
Ownership is also a family business. Jack O'Brien took over aquarium management from his parents-in-law, George and Greta. When he passed away, his daughters Kathe and Shireen inherited the aquarium. Their children sit on the aquarium board and have worked at the aquarium.