About the Seaside Aquarium




When the aquarium was founded in 1937, the goal was mostly to entertain the public. The dark interior was meant to create the feeling of swimming through an ocean cave at a time when respiration-aided diving was virtually unknown.

In the past several years, the focus has shifted to include education and community involvement as well as entertainment. We have reached beyond the walls of the actual building to participate in local events and projects geared toward a better understanding and appreciation of the North Coast marine environment.

In 1995, we became leaders in the regional Marine Mammal Stranding Network. In the next few years we added an Interpretive Center and helped start Seaside's Beach Discovery Program. We have partnered with local businesses, non-profit organizations, and the City of Seaside to inform both visitors and local communities about beach safety, tides, different coastal habitats, and the animals who live there.
Tips for Visiting Tide Pools
Be prepared. Check a tide table and go at least an hour before low tide (see article right). Wear appropriate clothing (including old tennis shoes. No sandals.) and bring towels and a change of clothes. Bring a camera, sunscreen, water, and an after-tide pool snack.
Be safe. Explore with a buddy. It is easy to twist an ankle on the rocks. Avoid climbing large rocks in or near the surf. Every year, people become stuck when they climb too high and then are stranded as the tide comes in. Watch the surf and use common sense. If the tide starts coming in, leave (even if the tidebook says you should have more time).
Set boundaries and rules with children in advance. Talk to children about your expectations. The ocean is beautiful but powerful. The surf can be dangerous and it is good for young children to stay in your close vicinity the closer you get to the edge of the water.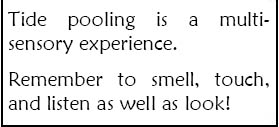 Help young children navigate. Walking across a rocky area or knowing the depth of a tide pool is a skill that takes some training.
Use your senses to activate your sense of wonder. This is a place of layers. Look closely. Look again, something new might be peeking between the mussels and barnacles.
Respect the place. Tide pools are homes for animals large and

small; please tread lightly, handle animals gently, and return things as you found them. Take only photos, leave only footprints.