The Beach is Their Home

Because of the March - September birthing season, spring and summer are the most common times for harbor seal pup sightings on beaches. Mother seals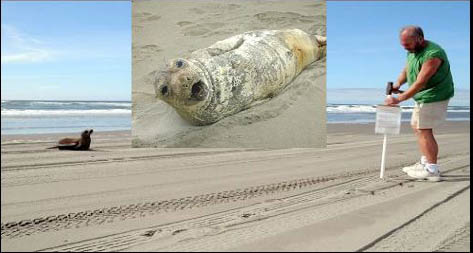 leave pups on shore while they hunt for food. The mother can be gone up to twenty-four hours. Often, a mother will not approach her pup if humans are nearby. The pupís best chance of survival is to reunite with its mother.
Other marine mammals sometimes come ashore to rest or recover from an injury or trauma. It is important to keep a safe distance from these animals as they can transmit diseases to humans and pets and can move quickly, even when they appear initially lethargic.
If you find a pup or other marine mammal stranded on the beach, call the Seaside Aquarium at (503) 738-6211 so we can post signs to let others know to leave the animal alone.