(Continued from Page 1)
Seals


The Seaside Aquarium was the first aquarium to breed seals in captivity, although another aquarium holds the official title. Newspaper records from as early as 1952 discuss live seal births at the Seaside Aquarium, but the New York Aquarium holds the official record for the first live birth of a seal conceived in captivity in the early 1960's because the Seaside Aquarium failed to record the information with the American Association of Zoological Parks and Aquariums.



Other Life at the Aquarium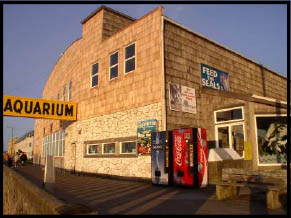 Soon after the aquarium opened, apartments were installed on the second floor. Rooms were rented by the week or the month and included Murphy beds and faucets for both fresh and salt water in the bathtubs. Although the apartments closed in the 1970's and the windows were subsequently shingled, the aquarium has recently reinstalled the second story windows. In addition, for many years the managers lived on-site in a small apartment on the south side of the building. When asked about the noise from the seals, most people who have lived in the Manager's Apartment said the seals quiet down after hours, but there is constant noise from the street in the summer and you must love the sound of running water.



A Family Operation


Managers of the aquarium have included George and Greta Smith, A.W. Ensor, George's son-in-law John O'Brien, and Keith Chandler. In 1983 John and Vivian O'Brien bought out the other partners and became the sole owners of the aquarium, fulfilling a lifelong dream to own the business that George and Greta were instrumental in building. George and Greta's legacy lives on in their descendants. The aquarium is still in the family and their greatgrandchildren have both worked at the aquarium and sit on the board. Keith was hired by John 'Jack' O'Brien in 1978 and has managed the aquarium since 1982. The Seaside Aquarium has always been privately owned and operated, relying solely on admissions and gift shop sales to cover all operating expenses.

Special thanks to Tom Thies, for compiling and writing the Life and Times of the Seaside Baths and Aquarium.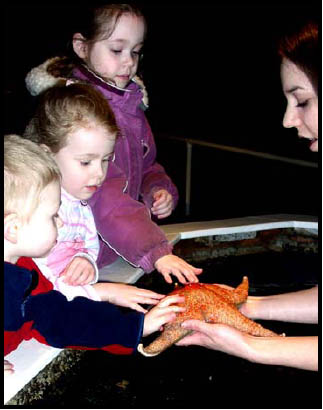 A Shifting Focus
When the aquarium was founded in 1937, the goal was mostly to entertain the public. The dark interior was meant to create the feeling of swimming through an ocean cave at a time when respiration-aided diving was virtually unknown.

In the past several years, the focus has shifted to education and community involvement as well as entertainment. We have reached beyond the walls of the actual building to participate in local events and projects geared toward a better understanding and appreciation of the North Coast marine environment.

In 1995, we became leaders in the regional Marine Mammal Stranding Network. In the next few years we added an Interpretive Center and helped start Seaside's Watershed Estuary Beach Discovery Program. We have partnered with local businesses, non-profit organizations, and the City of Seaside to inform both the public and local communities about beach safety, tides, different coastal habitats, and the animals who live there.