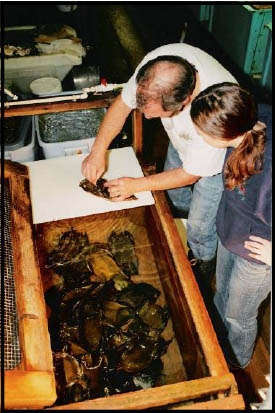 Strange Object: Egg
It is the size and shape of a small fanny pack but it is made out of stuff thatís more like kelp. Itís squishy in the middle and sometimes covered in barnacles. If youíve never seen one, it looks more like something youíd see on a science fiction show than on the beach. In reality, itís a skate egg-case.

Skates are the coldwater cousin to the ray. Like stingrays and manta rays, skates lay egg cases, also known as mermaid purses, that hold between one and six embryos. The most common egg cases to find on North Oregon beaches belong to the Big skate.

Big skate cases are usually about twelve inches long and four inches thick. Although the shell membrane allows oxygen to get through, it is solid enough that if a case washes up on the beach, the embryos can be temporarily protected. Depending on weather conditions, it can take a few hours or a few days for an egg case to dry out.
Many visitors who find egg cases bring them to the Aquarium for identification, and get more than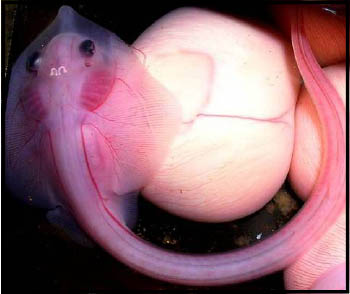 they bargained for. Aquarium staff carefully cut open egg cases to see if the embryos are still alive inside. If they are, the Aquarium displays the case to educate the public and raises the babies that hatch out. Big skates that reach maturity can grow to be over six feet long, although tank size may stunt growth slightly.

If you find a skate egg case on the beach, place it in a container of ocean water and bring it to the aquarium. You may just get to see some babies still attached to their yolk-sacs.
Important Beach Safety
1. Never turn your back on the ocean. Sneaker wavers are very powerful, sometimes strong enough to knock over an adult.
2. Avoid logs in the surf. They may look stable, but the ocean can roll logs over you.
3. This is not a safe area for swimming in the ocean. Be aware there is a strong undercurrent.
4. Completely extinguish your campfires. Embers can burn for days if left or covered.
5. Leave marine mammals alone. Marine mammals can carry diseases transmittable to humans.
Baby Seal Season

Itís the time of year that mother seals give birth and leave their babies on shore while they hunt for food. Well-meaning visitors to the coast sometimes mistakenly believe that resting baby seals have been abandoned by their mothers. The mother seal is likely to return but will not do so if people or other animals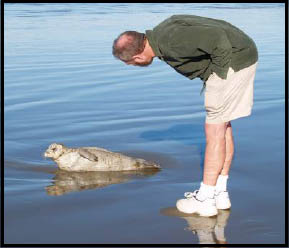 are nearby. If a baby seal is moved, the mother may never reconnect with it. The best way to help a stranded baby seal is to leave it alone and call the Seaside Aquarium.

As the North Coast responders of Oregonís Marine Mammal Stranding Network, we help protect a stranded animal and educate the public by posting signs nearby explaining that the baby is not abandoned, that the Marine Mammal Protection Act prohibits human contact with seals and sea lions, and that marine mammals can transmit diseases to humans.

To report a stranded seal,
call 503-738-6211.