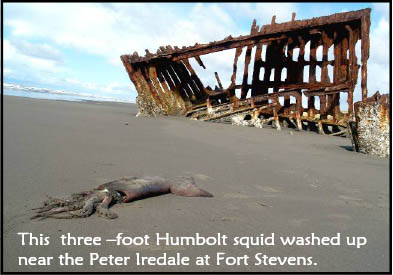 Beachcombing: Always an Adventure
Winter is an especially great time for beachcombing. Winter storms cause water to be churned up from the ocean floor and then pushed ashore. General Manager Keith Chandler calls this phenomenon an "ocean burp" because it looks like the ocean has belched a huge amount of debris on the shore. Sometimes the ocean burp deposits huge clumps of kelp, other times the debris is more evenly scattered.
Aquarium staff beachcomb regularly after storms looking for treasures for the Aquarium. Jason cuts up the tops of kelp to freeze to feed to the sea urchins throughout the year. He, Keith, and Tiffany find a variety of odds and ends on the beach to use for displays. Among their finds: a huge collection of goose neck barnacles on a log, moon snail shells, whole baby sand dollars, hermit crabs, mussel bunches, and skate egg cases.
Beachcombing treasures vary widely. It is very rare to find a glass float, but it is possible. It is more likely to see a variety of unusual sea life washed up. Recently a number of Humboldt squid washed ashore. Up to seven feet long, these deep water animals are rarely seen onshore. Sometimes salmon sharks wash up on the beach. The day following a storm is a great time to look for skate egg cases. The skate egg cases look like kelp pouches and can house a number of skate embryos. If the egg case remains wet, the embryos can survive. If you find something unusual while beachcombing, take it to the aquarium and they might be able to help you identify it.


What's Happening Here?
That strange bent pipe on the beach is the water intake pipe for the Seaside Aquarium. We regularly do two kinds of maintenance on the pipe. We have to backflush the line to keep it clean. We also have to lengthen or shorten the pipe depending on the season. In the summer, the current deposits sand on Seaside's beach and we have to add lengths of pipe to keep it above the sand. In the winter, a different current erodes sand away, leaving the pipe so tall it barely gets covered at high tide. We have to remove pipe to be able to pump sea water into the Aquarium. In these photos, we are removing lengths of pipe and backflushing the line.