Seasideís Watershed Estuary Beach Discovery Program
If you want to learn more about the beach and the Necanicum river in Seaside, this is the program for you.
When: Fridays and Sundays on the beach in front of the Seaside Aquarium, Saturdays at Quatat Marine Park in downtown Seaside, 10:30 a.m. to 3:30 p.m.
At the beach station, view grains of sand through a microscope, touch live sand dollars, and discover what creatures live below the surface on an open sandy beach. Along the river, learn about the interaction between fresh and salt water as you track the tides, pull crab pots, and explore a variety of local estuarine life.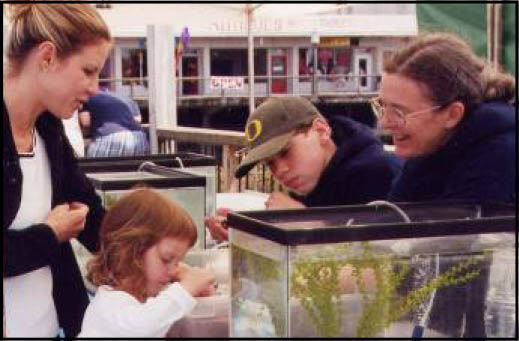 Haystack Rock Awareness Program in Cannon Beach
Learn more about "the rock" and the life that clings so tightly to it.
At low tides a trailer is set up in front of Haystack rock with samples of tidepool life to examine, spotting scopes for viewing birds, and staff and volunteers to answer your questions about intertidal life and the North Oregon Coast. A twenty-year tradition, the Haystack Rock Awareness program is a Cannon Beach institution. For information on times and tides, visit Cannon Beachís Chamber of Commerce.
The Gateway Natural History Center in Seaside
Located on Highway 101 in north Seaside, this Natural History Museum offers a great introduction to the resources of the area, stunning aerial photos, and interpretation about the local Clatsop tribe. Call 503-738-5618 for more info.