2010 Highlights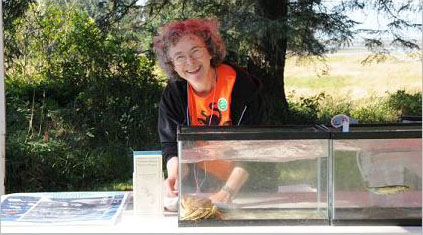 Discovery Program Director Pam Bierly shares marine life on Estuary Day
In addition to our regular displays, maintenance of the aquarium, and our work for the Marine Mammal Stranding network, we also:

Guided Astoria High School Students through dissections of Salmon sharks whose bodies washed ashore locally. Students collected tissue and organ samples which were then sent to a researcher at Stanford University.
Produced hand-outs about diatom blooms and purple-sail jellies to help visitors understand local ocean phenomena. We then partnered with the City of Seaside to post signs about diatom blooms around town.
Dealt with some marine mammals not common for the Marine Mammal Stranding Network: a dead baby sperm whale at Cannon Beach, a dead baby minke whale, and a live Stellar sea lion pup.
Celebrated Drexler the sealís 27th birthday. Participated in Earth Day and Estuary Day events.
Collected 300 pounds of food for the local food bank and then donated $1.00 per every pound of food collected.
Hosted an open house for the Seaside Chamber of Commerce
Rescued a green sea turtle which was sent to Seattle Aquarium for rehabilitation.

A stranded green sea turtle rests and slowly warms up behind the scenes at the Seaside Aquarium in its first step on the road to recovery.
Important Beach Safety
1. Never turn your back on the ocean.
Sneaker waves are very powerful, sometimes strong enough to knock over an adult.
2. Avoid logs in the surf.
They may look stable, but the ocean can roll logs large enough to crush you.
3. This is not a safe area for swimming in the ocean.
Be aware there is a strong undercurrent. Children should be kept within armís reach and should go no deeper than their knees.
4. Completely extinguish your campfires.
Embers can burn for days if left or covered.
5. Leave marine mammals alone. Marine mammals can carry diseases transmittable to humans.
Two Programs, One Mission
Curious about tide pools? Want to know how tides work? Seasideís Discovery Program and Cannon Beachís Haystack Rock Awareness Program will answer your questions and help you see the beach with new eyes.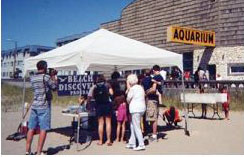 Seasideís Discovery Program
Sponsored by the City of Seaside and run by the Seaside Aquarium, the program runs weekends in July and August. Learn about open sandy beaches and the estuary through hands-on exploration!
Haystack Rock Awareness Program
Low tide at Haystack Rock holds many tidepool wonders. Volunteers and staff help make the most of this experience with microscopes, spotting scopes, and lots of interpretation. For more information and schedules check out: friendsofhaystackrock.org
Both programs are subject to inclement weather.